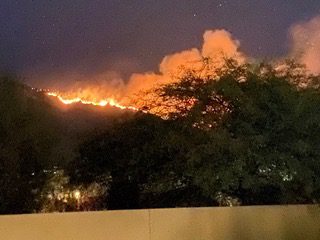 Tuesday, May 11, 6:00 – 7:30 pm. Watch recording on Youtube
 
Many of us remember all too well the Bighorn Fire last summer: the sight of flames that kept coming ever closer, and the plumes of smoke that clouded the skies and filled our lungs. And here we are again. Last Sunday's AZ Daily Star included the headline "Experts expect busy wildfire season again." With the Mulberry Fire in February and the Margo Fire in early April, we are already well into this year's fire season for Southern Arizona, making this month's topic even more timely than expected.
 
Our May monthly meeting will examine "Climate, Forests, and Fire in Southern Arizona." We're pleased to present two local experts on these topics, University of Arizona Professors Donald Falk and Luke McGuire, who will help us understand the changing landscape we are already beginning to see in our region and the impacts — past and expected — from what seems to be an intensifying fire regime. Their work has addressed issues including forest and fire ecology, post-fire impacts on soil and flooding, risks of erosion, and possibilities for restoration.
 
We all play an integral role in the regional landscape, and our lives are impacted by the natural phenomena around us. Any consideration of fire in our surroundings will have implications — both risks and opportunities — for issues like where housing is developed, where transmission lines are located, and more broadly, whether there are prevention, mitigation, or adaptation measures we should be looking at and acting on.
 
Please join us on Tuesday, May 11, at 6:00 pm, for the virtual meeting on this important topic.